108TEN Announcement
This new policy probably won't come as a complete surprise since it's entirely on-brand for Tungsten Structures to innovate, be creative, and do things completely differently…
Tungsten Structures has introduced what we call our 108TEN working model. This is a 4-day workweek structured so that, over a fortnight, all of our team members are paid for a full 10 days but are only required to work 8 days. However, everyone needs to maintain a full TEN days' worth of output so that the business remains sustainable and profitable. Every week, our team will be taking Friday off, which is the day that we have observed to create the least disruption for our customers.
It is our achievement of dramatic efficiencies that led us to investigate alternative working styles. Remaining exceedingly productive through 5-day workweeks was simply no longer sustainable for the members of our high-performing team. Being driven to excel, we naturally tend to struggle to gear down during the workday. So, to avoid professional burnout, prolong our careers and service to the industry, recover and replenish our energy, enhance our creativity, and decrease the risk of making mistakes, for all of these reasons we decided that it would be better to reduce our 'on' hours rather than compelling our team members to be less productive than their instincts and tools allow.
The aim of the 4-day week is not to work or produce less but to work smarter while maintaining or even improving production. We have actually been moving in this direction since our founding. We are constantly creating, improving, and following processes, making quicker and better decisions, staying hyper-focused, removing distractions, eliminating waste, automating tasks, leveraging technology, and, ultimately, enhancing our efficiencies and productivity.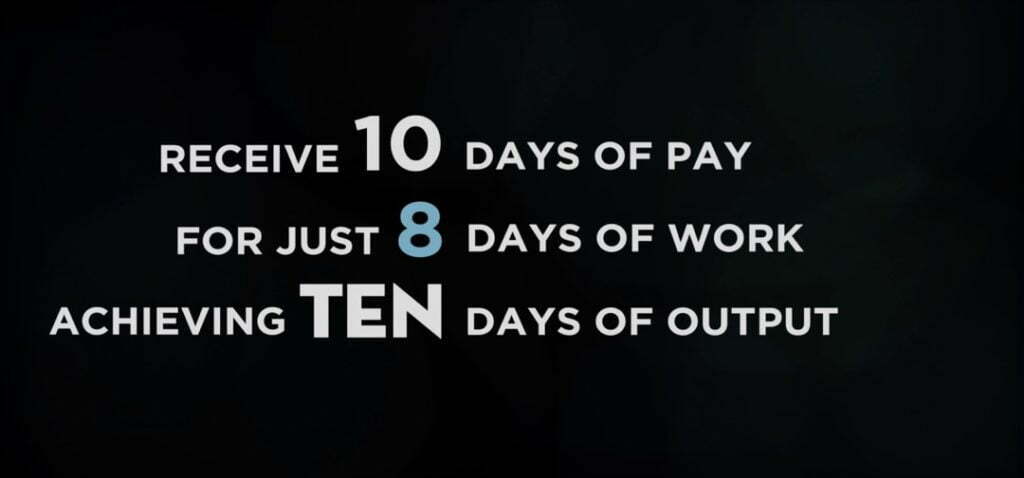 We are currently staging this change in our work practices across five distinct phases, each lasting three months. As we transition through these phases, we draw closer to our goal of a 4-day workweek. We commenced the first phase in April 2022, when our twelve-month rolling average efficiencies were a sky-high 144%, and we expect to be working true 4-day workweeks by July 2023. Rather than just ripping off the band-aid, our planned transitions allow for the sustainable evolution of our team members' work schedules. This phased approach offers us opportunities to identify any inefficiencies that may remain in our processes and to remedy them swiftly.
We figure that, since our team members consistently and sustainably deliver five days of work in four days, they should receive the reward of an extended weekend. This reward is in the form of a free day every week to do as they please but, most importantly, to recharge and re-energise. Our expectation is that they will then bring this newfound energy back into the workplace on Monday mornings. This way, our team can offer our customers even more creative and evolved solutions with higher-quality outputs and less room for human error. Also, we will issue project documents on Thursdays rather than Fridays, with the latter being the industry standard.
By implementing this change, Tungsten Structures is investing its bottom line back into its people. In the short term, this will mean less profitability and lower returns for our shareholders. However, we have always kept the long game in mind, and we are convinced that our 4-day workweek will drive our national growth plans by avoiding burnout as well as increasing our attraction and retention of highly productive team members.
In particular, implementing our 108TEN 4-Day Workweek is perhaps the largest step that we can take in terms of achieving our mission to create the most sustainable business model ever seen, one that offers a wealth of personal, professional, and financial opportunities for our team members and our customers.
So hold onto your hats and enjoy the journey with us as we demonstrate how to make the seemingly impossible possible, viable, and even sustainable for everyone in our industry!
If you'd like to find out more, please keep reading for a full explanation of our 108TEN journey. Below, I reveal the purpose of this new way of working, the clear benefits for our team, company, and customers, and the logistics involved in making this radical change. I'll describe the remarkable results that we've achieved since implementing the first phase in April 2022. Lastly, I'll anticipate some of the questions that you no doubt already have and address some of the challenges that we've overcome.
108TEN Introduction
Hi there. My name is Vince Williams, and I'm the founder and director of Tungsten Structures. I'm also a recovering workaholic! But hey, show me an entrepreneur who isn't, right?
When I started this business, my main priorities were leaving the path to professional burn-out that I had been travelling, rejuvenating my love for structural engineering, and increasing the freedom and flexibility in my life. Since then, the business has grown and my purpose has morphed into prolonging the enjoyment that other engineers experience in their careers and helping as many other people as possible to experience the same freedom and flexibility in their lives—especially those who are loyal and committed to our brand.
In 2008, when I was twenty-five years old and just three years out of university, I had already become charted with Engineers Australia in record time and landed a one-year contract as a structural engineer in London. I was eagerly burning the candle at both ends. In that same year, I picked up my first non-fiction book, The 4-Hour Workweek by Tim Ferris, and I couldn't put it down. The concepts of flexible work and the idea that we should all work to live rather than living to work really hit home with me, even at such a young age. Little did I know, this formative book would, some years later, change my life.
A few years later, in 2015, when I was thirty-one years old, the pull to take control of my professional destiny and adopt the book's flexible working concepts inspired me to start Tungsten Structures. Doing so gave me the freedom to create the working culture and rhythm that suited me. But, of course, being a workaholic at the time, I soon fell back into the trap of a high performer and was consistently pulling seventy to eighty-hour weeks out on my own.
By 2020, Tungsten Structures had grown to some fifteen employees. We were, and still are, creating exceptional outcomes with our projects, servicing our clients exceptionally well, and receiving recognition for doing so from industry associations, but I kept hearing the nagging voice of my twenty-five-year-old self telling me that I wasn't doing enough to instil my true sense of the value of freedom and flexibility in the working style of Tungsten Structures. Instead, I had somehow allowed the business to conform to the normal ebb and flow of the industry—something that, again, when I first started the business, I was keen to avoid.
Therefore, I began seeking answers, looking for inspiration, and searching for other ways of working. In my research, I came across a few examples of the successful implementation of a four-day workweek—a far cry, of course, from a four-hour workweek, but also a lot more sustainable! This idea resonated with me instantly, reigniting my youthful entrepreneurial passion, and I began considering how I could introduce and sustainably maintain a four-day workweek at Tungsten Structures.
So here, in 2022, are the results of my innovative undertaking, which has grown from the idea, which germinated a decade-and-a-half ago, that it is possible to inject more freedom and flexibility into the workforce. I couldn't be prouder of both this idea and also the adaptability and passion of my team for turning it into a reality.

So, how on earth did we get to the point where we're offering the members of our team a full-time salary for working only 80% of a normal workweek? That's certainly a valid question, and, if it were me looking at the situation from the outside in, I'd be asking the exact same thing.
In the following discussion, I'll reveal the purpose and intent of this new way of working, the clear benefits for our team, the company, and our customers, the logistics involved with successfully making this radical change, and the remarkable results that we've achieved since implementing it in April 2022. Lastly, I'll anticipate some of the questions that you no doubt already have and address some of the challenges that we've encountered.
Before we dive in, though, I'd like to emphasise that the point of implementing a four-day workweek is not working less but working better. Working better means enhancing efficiency and productivity and consistently making the right business decisions. We focus on getting the most out of each of us during those four days, those thirty hours. Our 108TEN 4-Day Workweek model is just the tip of the iceberg that you can see. Under the surface, changes are taking place in the ways in which we work, think, and solve problems. All of this is possible because we are eliminating waste, automating tasks, reducing distractions, and leveraging technologies.
Have you heard of Parkinson's law, which describes how work expands to fill the available time? Well, we're living it now: we've stopped working for work's sake. How about coming on the ride with us?
108TEN Drivers
In June 2019, four years after founding Tungsten Structures, when we had a total technical staff of just seven, I locked myself away for two weeks straight without distractions to work out operational procedures for the business. In July 2020, the first of our twelve-month rolling average efficiency results were available, showing that we had achieved 105% efficiency since introducing these procedures.
A pillar of our company is to continuously improve. We expect all of our team members to strive constantly to improve themselves, the team, and the company. Thus, while some members of our team were busy implementing the new systems, others were just as busy building on and enhancing them. Unsurprisingly, within another year, by July 2021, our twelve-month rolling average efficiency had climbed to 115%. As the content and quality of our processes and systems and checklists improved exponentially, so too did our results. By March 2022, our twelve-month rolling average efficiency had jumped to an astonishing 144%.
Over the twelve months from April 2021 to March 2022, we were literally invoicing more than seven days' worth of work per week with just five days of effort thanks in large part to the massive effort that the team had put into improving our systems and consistently adhering to the new approach. Not only were we now making effective use of our operational processes and checklists, but we were also expanding these changes to ensure that our working procedures for project management, customer management, project planning, and communications are efficient, our decision-making is rapid, and our methods are sustainable so that our project pipeline remains full without overflowing. So, March 2022, we were very successfully delivering a high-quality and consistent product while offering exceptional service and doing so extremely efficiently.
However, I began to observe during this period of ultra-high efficiency that stress levels were rising while overall energy levels were slowly decreasing, even at the start of a new workweek. Clearly, there was reason to be concerned about potential burn-out. There had been no significant increase in the number of hours we worked. Nevertheless, the sheer magnitude of the output that our team was delivering week after week during the standard thirty-seven-and-a-half-hour workweek was making it feel as though we were working sixty-hour weeks!
My conclusion from this experience was that our team was probably suffering from a magnification of effort and energy expenditure as a result of our efficient and consistent production of quality outputs for our customers. In other words, because of our increases in efficiency, the number of hours worked no longer correlated directly with energy expenditure or output. Instead, our efficiency had magnified the team's effort far beyond what would be sustainable over the medium or long term for anyone, even the high-performing members of our competitive team.
I realised that I needed to do something. Otherwise, we faced the real threat of mass professional burn-out, a situation that I know all too well after having put myself inadvertently in it before. It seemed that I had an obvious option and a not-so-obvious option. The obvious thing to do would have been to tell our team of A players simply to slow down, to back off on the efficiency. However, a step like that would run completely contrary to our cultural instinct to always perform at our best, improve, and innovate. Calling for a reduction in efficiency would also have meant rolling back, at least partly, the vast array of processes, systems, and checklists that had brought us success. So, instead, I gravitated towards the not-so-obvious option, which was to decrease work hours while maintaining ultra-high efficiency. The best approach, I reasoned, would be to give our minds and bodies a chance to recuperate fully during an extended weekly break between intense efforts.
The Purpose of 108TEN
With these considerations in mind, I began working out how to reinvent our workweek. I'll describe the process in more detail further in this article. Most importantly, though, I wanted to reward the members of our team for their proven and quantified efforts. I looked at the traditional professional landscape to determine exactly who benefits from a team's efficiency and realised that, unfortunately, the benefits are completely one-sided. Traditionally—and what I'm going to say may sound all too familiar—a team is expected to maintain any increase in efficiency that it achieves. The profit margins of the business grow, the pockets of the owners and shareholders bulge, and, regrettably, the career spans of the team members decrease dramatically because of professional burn-out. Many end up looking for a radical career change as a result of a mid-life crisis that could have easily been avoided were it not for the greed of their industry.
Tungsten Structures is a value-creation company. The members of our team create value for our customers' projects with our brilliant ideas (if I may dispense with false modesty), and, in return, the company is handsomely rewarded. Of course, our employees receive a competitive salary and even quarterly bonuses, but I still felt that the value that they have continued to create daily was, to some extent, going unrewarded. So, I decided to reverse the equation and return that value, that newfound efficiency, productivity, and innovation, to the team. If our team members were able and willing to continue to improve their performance so as to produce in four days what most other workers produce in five, Tungsten, rather than pocketing the resulting additional 25% profit margin, would return this value to them in the form of three-day weekends with no decrease in pay. So, the premise of a 108TEN fortnight was born, with the promise of 10 days of pay for 8 days of work on the condition that TEN days' worth of output is maintained.
Of course, I had calculated the risk of failure to be very low. We already had the measures in place to quantify our performance in terms of efficiency, and, as stated earlier, had increased this twelve-month rolling average from 105% to 144%. We only needed our efficiency to remain above 125% for the 108TEN 4-Day Workweek to be a success.
My only concern now was how the industry and, most importantly, our customers would receive our news. As I thought about it, though, I realised that this concept was completely on-brand for Tungsten Structures. We have become renowned for innovation, creativity, and doing things differently. Our revolutionary style initiated and has maintained our success. Indeed, not implementing this new working concept would be inconsistent with our style and with our brand. I was also convinced that our 108TEN 4-Day Workweek would result in positives and advantages for all of the stakeholders involved. I'll go into each of the proven benefits to our team, company, and customers in a moment.
Personally, I want Tungsten Structures to be around for as long as possible—forever would be nice. As a business, we expect to continue growing and changing ever more lives for the better. Keeping the members of our team on the job and increasing their career lifespans has a positive impact on them, their families, and the industry as a whole. We view their careers as a marathon race towards wealth rather than a sprint towards burn-out. Implementing our 108TEN 4-Day Workweek is probably the biggest step that we could have taken towards the achievement of our mission to create the most sustainable business model yet, one that creates a wealth of personal, professional, and financial opportunities for our loyal team and customers.
The Benefits of 108TEN for the Team
The most obvious benefit of the four-day workweek for the members of our team is, of course, the 50% increase in the length of their weekends, which corresponds to the 20% reduction in the length of their workweeks. Also, since their salaries remain the same, the policy represents an immediate 25% increase in their effective hourly pay.
More than that, no member of our team will ever have to say "I don't have time for that" or "there aren't enough hours in a day" again. Now, they all have a free day every week to do whatever they please. They can spend more time with their children, take care of the week's "life admin" chores, learn a new skill, such as picking up a musical instrument or learning a language, get outdoors for exercise, taking a class, or even turn a passion project into a new business for an extra revenue stream. Some may give back to the community or invest additional time in their engineering careers. The options are endless.
We all look forward to a long weekend and feel amazing come Monday. Now, imagine having that experience every week. There are obvious improvements in the wellbeing of our team members. Physically, they are able to be active consistently. Mentally, they have sufficient time away from the workplace to clear their minds and make space for fresh thinking, Spiritually, they describe feeling balanced and grounded knowing that there are never more than four days (of highly efficient effort, to be sure) until they will be enjoying another long weekend. One secondary benefit of this increased wellbeing is heightening the mood in team members' families as well, since those with whom we interact daily naturally reflect and are reflected in our own temperaments.
With the additional time to recharge, escape the day-to-day pressures of the workplace, and just slow down a little comes additional energy. In the workplace, this energy is powering an abundance of amazing qualities. The focus of our team is heightened during the 108TEN 4-Day Workweek so that imagination and creativity run free. As a result, we are able to overcome challenges with ever greater speed and effectiveness.
One more thing we've noticed is that the workweek has become even more rewarding. We are solving problems not only for our customers—which is the basis of our jobs and what we love most about engineering—but also for ourselves. Observation and awareness are powerful tools. It's like seeing a certain car model everywhere once you've decided that you want one. Now, we look at every task that we undertake, every beam we design, every line we put down on paper, every object we model, and every communication as an opportunity for improvement. We appreciate the challenge of finding and eliminating inefficiencies, and we never consider any solution to be the ultimate one. Best of all, we know that, once we've addressed these efficiencies and created a process or checklist for others to follow, these efficiencies are compounded into the future.. Who knows? Maybe one day, our efforts to eliminate inefficiency will allow us to enjoy a three-day workweek—we now have no limits!
The Benefits of 108TEN for Customers
The benefits to our customers are probably a little less obvious than those to our team. However, for the most part, the benefits enjoyed by the former are enjoyed by the latter and vice versa. Perhaps, as a customer, you're thinking, Hang on a minute—why are we paying the same amount for fewer hours of work? The simple answer is that we don't bill by the hour and never have. We're rewarded, again, for solving problems, having established a reputation for using our expertise to add significant value to our customers' projects. We perform a lot more effectively, consistently, and sustainably when we're well-rested.
Simply put, a rested, energetic team can be relied on to produce high-quality outputs and avoid human error. With ample time for reflection over long weekends, our team members cultivate the flexibility to bypass their logical side so that they can harness their creativity and put it to work creating value for you. How many times has an answer dawned on you after you've stepped away from the problem so that your subconscious could go to work? People consistently come up with great ideas in the shower, while lying in bed, or on a hike. Time away from the workplace, paradoxically, can facilitate work.
The biggest win for you, the customer, though, is that, along with accurate and carefully considered designs and documents, our increased efficiency in handling products and services means that we are delivering your projects up to 45% faster than our competitors and compared to what we were achieving before implementing 108TEN. When we guarantee completion of a job by the end of the week, you receive everything by close of business Thursday instead of Friday. The one day earlier equates to 45% faster because you are then able to deliver trade packages to your subcontractors for pricing on Friday morning instead of waiting until Monday. Your subcontractors, in turn, have three additional days to provide you with a price. Alternatively, you can accelerate your program by three days in response to time pressures. In this way, the extra three days add up to a 45% increase in the efficiency of the transfer of information in a structural engineering trade package, across a seven day week.
The Benefits of 108TEN for Tungsten Structures
As a company, we are investing our potential profits in our people. It will come as no surprise that, in at least the short to medium term, Tungsten Structures will, in effect, be losing profit margins to pay for our 108TEN 4-Day Workweek. What may be surprising to some, however, is the confidence that we have in our team. We are certain that the benefits to their lives from this new working style will pay off in spades in the longer term.
The flow-on effect to our company from having an engaged, energetic, creative, and well-rested team is, we're convinced, substantial. We have had one outcome in mind during the development and introduction of this concept: perfectly aligning our company with our mission and vision for the most sustainable business model possible, one that creates a wealth of personal, professional, and financial opportunities for our team members and our customers.
Tungsten Structures has lofty growth plans, and growth inevitably means more moving parts and, in turn, more room for error. Our current quality speaks for itself: we haven't faced a single professional indemnity claim since our inception in July 2015—knock on wood. We intend to maintain this record through our growth journey. Our 108TEN 4-Day Workweek model supports this goal by ensuring that our team members come to work rested in mind and body, resulting in high-quality outputs with much less chance for human errors.
We are anticipating that the introduction of our 108TEN 4-Day Workweek will increase our already high staff retention rates as we continue to grow over the coming years. Ideally, our annual turnover rate will drop to half of the current (as of the end of September 2022) 16%. This rate is lower than the industry average for a small to medium company, but we can do better.
We also expect that, by offering what is a first in the civil engineering field, we will attract mid- to senior-level engineering talent to help drive our national growth plans. Our current strategy is to hire mainly entry-level engineers and facilitate their rapid growth as professionals through broad exposure to projects, designs, and management. However, the lack of experience with any other way of working means that our entry-level engineers may not fully appreciate the benefits of our 108TEN 4-Day Workweek. This arrangement tends to suit those who feel that they may not be receiving adequate returns for their efforts—or simply have a young family with which they want to spend lots of quality time without sacrificing their income and lifestyle.
108TEN Practicalities
As you can see, then, implementing our 108TEN 4-day workweek was not a casual decision, and we haven't taken a rip-the-band-aid-off approach to introducing it. No, we carefully considered every aspect of this enormous change and are managing and measuring each appropriately.
Our first consideration was which weekday off would least disrupt our customers and our business. We observed that Friday has been by far the day on which the least communication and interaction with our customers and project consultant peers occurs. For our industry at large, Friday seems to be the least productive weekday, and our team has been no exception in this regard. By Friday, the week's focus and energy seem to have dissipated, perhaps artificially bolstered only in part because the weekend is just around the corner.
So, Friday made the most sense for us on two fronts. On this day, we were receiving only around 5-10% of our weekly customer communications, so closing our doors on Fridays would cause the least disruption. Likewise, our team was only producing around 10-15% of its outputs on Friday, so, at least theoretically, we would still be producing at least 85-90% of our output. Moreover, with the longer weekend to rest and bolster our weekly energy stores, our efficiency should easily increase by 10% at a minimum so that we would be matching what had been our productivity and output across five days in just four.
Having worked out the final structure for our 108TEN 4-Day Workweek model, our next step was careful implementation. Our strategy to ensure the least disruption for our customers and business during the process consists of five phases, each lasting for at least three consecutive months. We began in April 2022, so, at the time of publication (October 2022), we are in the third phase.
Phase 1 introduced the concept in the form of an "improvement day" every other Friday. On improvement days, the whole team concentrated its effort on identifying ways to increase the efficiency of our processes. The understanding was that, once our true 108TEN 4-day workweek is in place, we would need to improve our efficiency even further as a team.
In Phase 2, every Friday became an improvement day.
Phase 3, our current phase, involves swapping one improvement day fortnightly (every other Friday) for a "transitional day off." We define a transitional day off as one on which we work only between 1-2 hours, which amounts to checking in on customer communications a couple of times.
In Phase 4, leveraging the increased efficiency achieved during the first three phases, we will treat every Friday as a transitional day off.
Things get real in Phase 5 as we zero in on full implementation of our 108TEN 4-Day Workweek model. At this point, the transitional Fridays off begin alternating with true Fridays off, with team members not even checking their email. With the anticipated successful completion of Phase 5, we will have transitioned fully to the 108TEN 4-Day Workweek model, with the team having every Friday to themselves. The target for this last step is July 2023, assuming the success of the previous phases.
Of course, we had to define exactly what "success" looks like at the end of each phase to be sure that the team had transitioned through it in a sustainable and comfortable manner. We are big proponents of measuring what matters, so we have already collected a trove of data with which to establish a baseline for success. The measures that we chose were team satisfaction and business performance.
It has always been our policy to measure team satisfaction every two months. As part of our performance enhancement system, each team member has a bi-monthly 121 meeting with the team leader. To prepare for these meetings, team members fill out an agenda that includes assessing their current stress level and satisfaction with their job and team and the direction of management on a ten-point scale and answering a series of questions.
Our measurement of business performance keeps things simple, consisting of no more than a comparison of actual monthly sales with predicted monthly sales determined at the start of each calendar year based on our capacity and resources to deliver the work. In addition to this direct lag indicator, we of course look at other lead indicator measures to ensure that we maintain sustainable business performance. Importantly, moving to the 108TEN 4-Day Workweek model does not involve changes to our predicted monthly or annual sales. Likewise, this move in no way reduces our capacity and resources to deliver the work because of our increased efficiency, effectiveness, and productivity. Thus, 108TEN rests on the assumption that the team can and will keep producing 100% of the output in 80% of the time.
At the end of each quarter, then, we are assessing the success of the previous phase based on our measures of team satisfaction and business performance. Assuming that we hit our published minimum expectations, we move on to the next phase. Should we fail to meet expectations—which hasn't happened—we would remain in the current phase for an additional month or two or as long as it takes our team to adjust to working successfully within the context of that phase.
This is another critical point in the success of change management: the targets are fixed, transparent, and published in advance. Every team member already understands what success at the end of each phase looks like, and each has immediate, real-time access to the scoreboard. With all of the cards on the table, team members have opportunities to reflect, adapt, pivot, and, perhaps, create and implement new efficiencies to help ensure the team's success. We have such an amazing competitive and self-accountable culture that no one needs to wave a stick at our people. Also, what better motivation could there be than knowing that, at the end of the day, team members' success is their reward? That is, once we successfully move through the phases, we are rewarded with an extended weekend.
The members of our team are also aware that the sustainability of our business comes first. Without it, none of us will keep the jobs that we love. Therefore, we will continue to measure the success of our 108TEN 4-Day Workweek model after the transition is complete. We each carry the expectation and knowledge that, should team satisfaction or business performance begin to suffer, even years from now—perhaps stress levels are consistently rising, or we fail to meet our forecast budgets for a few consecutive months—we may need to re-introduce that fifth day to our workweek for some period of time to turn things around. There may also be times when, even with 150% efficiency, delivering the required volume of work is just not possible in four days. So, as a team, we are both grateful to be enjoying long weekends under the model and fully aware that the imperative to put the sustainability of our business first may force us to rethink those weekends at some point, at least for a little while.
108TEN Solutions to Challenges
Before wrapping up, I want to discuss a couple of the questions that we needed to answer in developing our 108TEN 4-Day Workweek model. We have done our best to resolve these issues, but time will tell as we move into the later phases of our transition. If challenges persist, we will adapt, pivot, and alter course as we always do.
In Phase 5, we move to taking every other Friday off, no longer checking in to see whether our customers are trying to get in touch. Then, assuming success in that phase, our team will have every Friday off.
So, how do we limit the disruption to our customers' projects and construction activities on these off-days?
We expect that the design phase of our projects can easily be managed within the context of a four-day workweek. Construction on-site, however, doesn't stop for anyone. Our site already remains active on Saturdays, and we were concerned about another consecutive day with no one around. Hence, we are implementing "client coverage days" (CCDs). We will set up a rolling calendar for our team so that one engineer will be present each Friday to deal with any urgent matters, attend site inspections, and review site photos as required. Each team member will thus be required to work a full five-day week every few months or so based on the calendar. The week's CCD engineer will be ready to respond to any pressing issues with any of our projects, remaining directly accessibly through our office phone and email address (to which our customers will be referred automatically should they contact any of our other team members).
When there is a public holiday, will the office close for two days that week?
The simple answer is no. When a public holiday falls on a Monday, Tuesday, Wednesday, or Thursday, we will, of course, observe it, but all of our team will then be at work on that Friday. As discussed, to maintain the sustainability of the business, we need to achieve a full five days' worth of output, which is challenging enough under the 108TEN 4-Day model and would, at this stage, be all but impossible in a three-day workweek. So, we will maintain the four-day workweek by having team members come in on Friday instead of the holiday on those weeks.
108TEN Results
Of course, the key question is whether we have been achieving satisfactory business performance during our transition to date compared with our performance before the transition. We are more than happy to share our results and will regularly do so as we continue through the phases and, ultimately, to the final implementation of our 108TEN 4-Day Workweek model.
Our intent in sharing these results is to encourage other firms to consider adopting a four-day workweek, too. Our experiences can also fuel a conversation with your manager or the owner of your firm about shortening the workweek. It's our hope that, one day in the not-too-distant future, our 108TEN 4-Day Workweek model will be replicated throughout our industry and beyond.
A comparison of our historical actual sales to our historical predicted sales from the founding of the company in July 2015 through to the introduction of the 108TEN 4-Day Workweek in April 2022 was already quite high, around 124%. In other words, we have consistently delivered and invoiced 24% more work than we predicted. It's no coincidence that this figure equals almost exactly the increase in sustainable productivity that we would need to maintain to make a four-day workweek financially feasible. That is, since five days of output in four days of work represents an increase in productivity to 125%, by achieving this increase across a 108TEN 4-Day Workweek, our output would equal 100% of the five-day workweek forecast budget (125% x 4/5 = 100%.)
During Phase 1 of 108TEN—the introduction of an improvement day every other Friday—we managed to keep our productivity very high, at 118%. Keeping in mind that this figure only needs to be 100% for our trial to have been a success, our results so far demonstrate that our productivity is aligned with our long-term average. Also importantly, this productivity figure is measured against a full five-day week budget (rather than a nine-day fortnight budget). So, in terms of true productivity, we actually achieved closer to 131% (118% x 10/9).
During Phase 2 of 108TEN—we moved to an improvement day every Friday so that we are now working on active projects for only four-days a week—yet we further improved our productivity up to 127%. We are well over our 100% target, so again this phase has been a huge success. Also keep in mind that this productivity is measured against a full five-day working week budget (rather than a four-day working week budget). So, in terms of true productivity, we achieved closer to 159% (127% x 5/4), which is incredible and a lot higher than our long-term historical average of 124%. It appears that all the extra effort we are putting into implementing efficient practices, processes, methods, checklists and the like, is really paying off for us right now. During phase 2 we worked a whole day less each week yet produced more work during those 4 days than we have historically across 5 days, which is quite incredible.
During Phase 3 of 108TEN—we were now alternating our Friday's between an improvement day and a transitional day off. We managed to hold our high productivity steady, achieving 124%. We are again well over our 100% target, meaning this phase has been another big success. As a reminder, this productivity is measured against a full five-day working week budget (rather than a four-day working week budget). So, in terms of true productivity, we achieved closer to 155% (124% x 5/4), which again is a lot higher than our long-term historical average of 124%.
During Phase 4 of 108TEN—we ceased working improvement days altogether and were now enjoying transitional days off every single Friday. During this first quarter of 2023, we hit a market roadblock. Construction prices have skyrocketed, so in south east Queensland in particular (where 80-90% of our market is, it has meant that developers are beginning to delay their projects, their appetite to push the button speculative builds has waned, and D&C builders are beginning to get wary with their ultra low margins. Whilst our forecast has remained full (with at least 4 months of work ahead of us for the whole office) are are finding that our active pipeline is being pushed into the following quarter, as developers and D&C builders attempt to wait out the peak of the current construction price crisis. This has meant that our sales during Q1 of 2023 has reduced below expectations, and highlights the need for us to continue to further diversify our product across the nation to remove location dependency and the exposure risk that goes with operating most of your business in a select area. Due to the delayed projects and resulting reduced sales figures, our productivity has also reduced in this quarter. We achieved a productivity of 79% through the first three months of 2023. Meaning that we effectively invoiced four days of sales for four days of work through this period. Given that the premise of 108TEN is that we need to achieve five days of output in our four days of work so we can sustainably afford to pay our team a five day salary, we were below par for this quarter. As such, we extended phase 4 for an additional month instead of graduating to phase 5. We are happy to report that some of our delayed projects slowly began to drop, and as such our productivity across the four months of phase 4 (January to April) rose to 97%. As a company we chose to move forward in to phase 5 on the back of that big turnaround, even though we were just slightly below the 100% we had aimed for. Our 97% result means we had achieved a true productivity of 121% (97% x 5/4), which is only slightly below our long term historical average of 124%. An amazing effort given the nervousness in our current local market.
We have moved into Phase 5 for at least three months (May to July) and we are forecasting that the south east Queensland industrial market conditions will gain confidence as prices begin dropping and our active projects will then pick back up slowly during Q2 of 2023, until the market begins to boom again during Q3 & Q4. Tungsten Structures are also excited to be opening their Sydney office by 30th June 2023, in time for the third quarter of the calendar year.
108TEN Resources
If I've almost managed to convince you that a four-day workweek is the most significant and positive step that a firm can take towards business sustainability and would like to find out more from those who inspired us, try checking out some of the following links.
108TEN Teaser
108TEN Reveal